System Solution from genua Ensures gematik-Compliant Networking in Healthcare
Case Study
System Solution from genua Ensures gematik-Compliant Networking in Healthcare
Companies that want to have service providers connect to their IT in a reliable and scalable manner can accomplish this securely with the appropriate solutions from genua. These satisfy the strict requirements of the Gesellschaft für Telematik-Anwendungen der Gesundheitskarte (gematik, official body for the e-Health infrastructure in Germany) and of the German Federal Office for Information Security (BSI). Furthermore, the solutions are easy to implement and operate.
gematik-Compliant System Solution from genua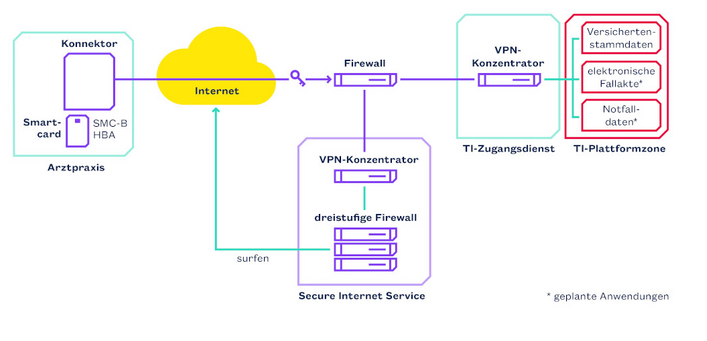 Firewall & VPN Appliance as VPN Concentrator
The Firewall & VPN-Appliance genuscreen is used as a central access point for the VPN access service for service providers. It protects the network against unauthorized access; VPN connections from the connectors are accepted after careful inspection. Due to the high requirements placed on performance and availability, the solution from genua bundles several appliances together to form high-performance and fail-safe clusters. The German Federal Office for Information Security (BSI) certified genuscreen according to Common Criteria (CC) level EAL 4+ and approved it for data up to the German classification level RESTRICTED. genuscreen in the backend thereby makes an important contribution to the high security level of the overall solution.
Firewall Monitors Data Traffic for Secure Internet Service
Via the VPN connector, service providers can use the Secure Internet Service (SIS) to access medical portals on the Internet in accordance with the gematik specification. A three-level firewall solution with the High Resistance Firewall genugate as a central system ensures high-quality security. The firewall from genua analyzes all data traffic on the application level and enables virus scanning, the filtering of content, black listing, anomaly detection and much more. With a BSI certificate according to CC EAL 4+, the strong security performance of the genugate firewall has been verified by independent experts.
---
---