System solution from genua ensures gematik-compliant networking in healthcare
Case Study
System solution from genua ensures gematik-compliant networking in healthcare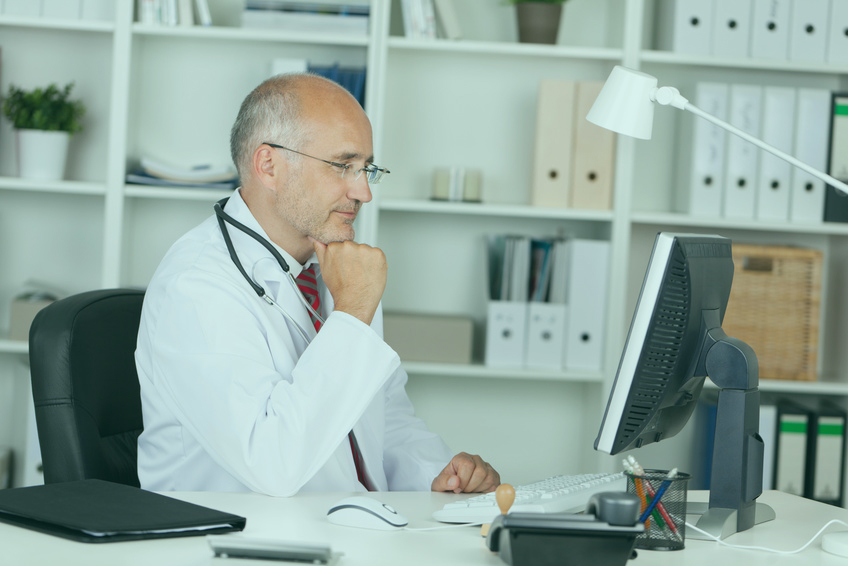 Companies that want to have service providers connect to their IT in a reliable and scalable manner can accomplish this securely with the appropriate solutions from genua. These satisfy the strict requirements of the Gesellschaft für Telematik-Anwendungen der Gesundheitskarte (gematik, official body for the e-Health infrastructure in Germany) and of the German Federal Office for Information Security (BSI). Furthermore, the solutions are easy to implement and operate.
gematik-Compliant System Solution from genua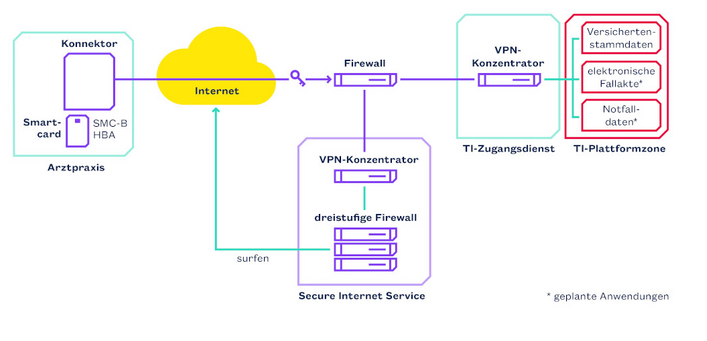 Firewall & VPN Appliance as VPN Concentrator
The Firewall & VPN-Appliance genuscreen is used as a central access point for the VPN access service for service providers. It protects the network against unauthorized access; VPN connections from the connectors are accepted after careful inspection. Due to the high requirements placed on performance and availability, the solution from genua bundles several appliances together to form high-performance and fail-safe clusters. The German Federal Office for Information Security (BSI) certified genuscreen according to Common Criteria (CC) level EAL 4+ and approved it for data up to the German classification level RESTRICTED. genuscreen in the backend thereby makes an important contribution to the high security level of the overall solution.
Firewall Monitors Data Traffic for Secure Internet Service
Via the VPN connector, service providers can use the Secure Internet Service (SIS) to access medical portals on the Internet in accordance with the gematik specification. A three-level firewall solution with the High Resistance Firewall genugate as a central system ensures high-quality security. The firewall from genua analyzes all data traffic on the application level and enables virus scanning, the filtering of content, black listing, anomaly detection and much more. With a BSI certificate according to CC EAL 4+, the strong security performance of the genugate firewall has been verified by independent experts.
---
1. Avoid cyber attacks
Challenge

Remote maintenance solution from genua

If remote maintenance is not performed securely, e.g., due to insufficient identification and authentication of the service providers, gateways arise in the medical IT landscape. In the event of, e.g., damage caused by cyber attacks, important medical devices could be tampered with or even fail. There is a risk that the health of patients could be endangered.

Focus on security and high availability
Authentication and encryption
Access restricted to maintenance object
Medical device operator has full control over the maintenance process and network opening
Security patches for all remote maintenance components centrally distributable

Advantage

Best-possible safeguarding of medical devices in an open IT landscape.
2. Protect sensitive patient data
Challenge

Remote maintenance solution from genua

Remote maintenance opens a potential point of entry for third parties into the customer's network. It is generally possible to read out highly sensitive patient data. Moreover, this data is transferred where necessary to the service provider's control center via the Internet and thereby potentially exposed. This is absolutely unacceptable with sensitive data and strict legal requirements (BDSG, GDSG, StGB).

Guarantee of confidentiality
Access is controlled and limited exclusively to the medical device that is to undergo remote maintenance; access by unauthorized third parties beyond this network segment is blocked
Highly secure data encryption
Support of risk management (MPG and DIN EN ISO 14971)

Advantage

The protection of sensitive patient data has top priority at all times.
3. Prevent the spread of malicious software
Challenge

Remote maintenance solution from genua

Remote maintenance requires an opening in the target network. There is thereby a risk that malicious software can be introduced either intentionally or unintentionally by service providers or attackers. Without protective measures, malicious software can spread unhindered throughout the customer's entire IT network, spy on data, tamper with control systems and disable central medical supply devices.


Encryption, authentication and access control
Injected malicious software is encapsulated in a network segment of the maintenance object
Infections caused by USB sticks are limited to one network segment and can be examined and rectified there

Advantage

Risk to the customer's IT landscape is kept to a minimum.
4. Retain control
Challenge

Remote maintenance solution from genua

Remote maintenance requires the trust in third parties. Hospitals and other medical device operators need to open their IT network for medical device manufacturers and service providers who perform monitoring and maintenance services on high availability and complex devices.
If damages occur on remotely monitored medical systems, the question of liability quickly comes up. If the remote maintenance work cannot be understood and – above all – verified in detail, it is difficult to present the necessary evidence in the event of a legal dispute.


Maximum transparency for medical device operators and service providers
Comprehensive logging functions
Video recording of all processes during the remote maintenance work
Ability to follow all maintenance work in real time
Archiving of videos as well as of transferred and executed maintenance

Advantage

Access can be traced in a tamper-proof manner; the evidence is clear at all times.
5. Ensure usability and easy administration
Challenge

Remote maintenance solution from genua

Remote maintenance and the safeguarding of that maintenance require additional IT components in the networks of medical device operators. IT infrastructures are becoming increasingly complex and barriers arise for employees – the susceptibility to failure increases, usability decreases. Additional, specially qualified specialists become necessary for administering the remote maintenance solution as a result.


Management station enables central administration
Convenient remote maintenance app
Preconfigurable processes for medical personnel and external service providers
Session is released, executed and completed with just a few clicks of the mouse

Advantage

Access can be traced in a tamper-proof manner; the evidence is clear at all times.
---
Further Information
Checklist of BSI recommendations for secure remote maintenance: the remote maintenance solution from genua satisfies all security recommendations of the BSI.