If there is a problem that cannot be solved on-site due to logistical reasons, flexible remote maintenance offers a solution that is practical for both the customer and the provider. On the other hand, secure remote maintenance that is adapted to the respective situation places high requirements on the IT security.
The design of solutions for secure remote access – for example in predictive maintenance – requires simple integration into existing networks as well as convenient monitoring options. genua supports manufacturers, service providers and customers when setting up such remote maintenance access in various environments.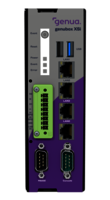 genubox can provide you with extremely secure remote maintenance access to almost everywhere. This solution can be installed, for example, on industrial robots, wind turbines or simply in server rooms – all locations where manufacturers or service providers monitor and provide support by remote access. genubox ensures security in the event of required maintenance: It establishes an encrypted connection for data transfer, and uses its firewall function to restrict external access exclusively to the system being maintained.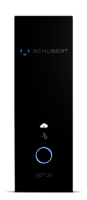 Cloud Edge Gateway GS.Gate
Providing maximum security during the collection, processing, and provision of machine data motivated the Schubert System Elektronik company and genua to jointly develop the Cloud Edge Gateway GS.Gate. To achieve a high level of protection at the critical interface between OT and IT, the solution was designed according to the "security by design" principle. Thus, the data processing applications communicating with the machine are strictly separated from the security systems protecting communication and the interface to the external network.
With the knowledge and practical application experience from our training courses, you can properly use and administer our products.
Service for our IT security solutions is provided directly by genua or our trained sales partners.
Still haven't found what you're looking for?
genua's products and services protect the exchange of information in the areas with the highest demands on IT security. Learn more about our service portfolio.
The advantages of the genua solutions are the high security and flexibility while still being very easy to configure. Customers don't need to perform extensive network setups and, as the manufacturer, we can centrally manage all genuboxes, e.g. to upload the current security updates from a single location.

Christopher Kohl, Director of Digitization, INDEX Group
Remote maintenance via VPN is a secure and reliable solution that is well received by our customers, making it an important competitive advantage.

Peter Brechtel, Director of IT-Infrastructure, manroland web systems